Simply put, caves are carved by water.
But, water alone could never make the incredible formations found in caves. It's actually a chemical reaction.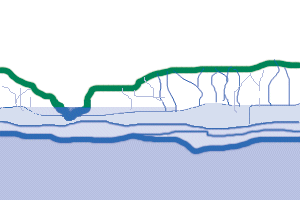 As plant and animal matter decays in the top level of soil, it releases carbon dioxide gas. Water seeping through reacts with this gas to form weak carbonic acid.
As carbonic acid dissolves the solid limestone; a chemical reaction causes it to dissolve even more limestone, about 25 times more than would dissolve in water alone.
This limestone-water drips through the cavern, the carbon dioxide evaporates and the calcium carbonate that is left forms the stalactites and stalagmites we see in caves.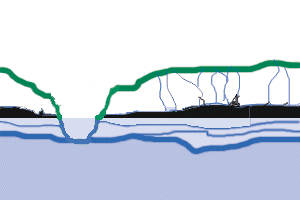 A cave is formed where there is bedrock of karst, or limestone. The water, carrying on its chemical reactions travel through cracks in the limestone, slowly dissolving the rock and enlarging the crevice. The runoff descends to the water table, the level of whatever river or lake is closest.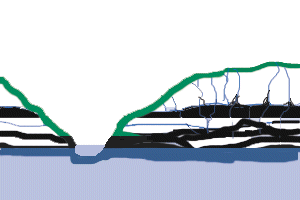 As the acidic water moves to the river or lake, it dissolves more limestone, widening the underground channel and drawing in more ground water with it. In time, a main horizontal underground stream is formed, with pools, and tributaries.
If the water table drops, either because the ground rises or the river cuts a deeper channel, the water once again trickles through crevices to make a lower level. The original streambed drains downward and as water drips through it to the lower level, makes incredible formations in the open cave.
text and photos by Carla Kirby